Feature Photograph: Laurie Stevenson
Travel is one of the best experiences anyone can have. Taking yourself out of your day to day context and putting yourself in a situation that is totally new can be incredibly formative as an individual. As photographers, this change of environment can cause some of the largest growth in your work for many of the same reasons. You're in a new and interesting space with new and interesting people with a new and interesting culture. All that being said, it is incredibly easy to fall victim to the tourist traps, cliché images, and snapshot photographing that occurs when traveling. So here it is, Tip Talk – The UA Creative Studios Top Travel Photography Tips.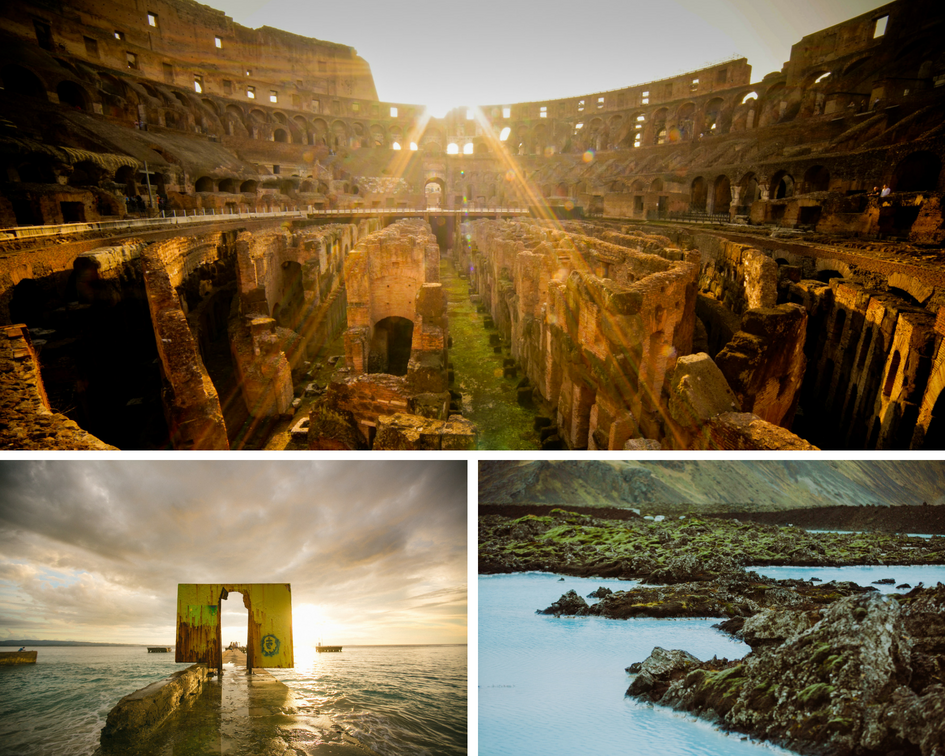 Photography by: Laurie Stevenson (Top), Erica Coffman Santiago (Bottom).
Sleep Is For The Weak
The sad but true reality of travel photography is this, if you want that million-dollar shot of that incredibile landmark with no people in it with the best lighting possible, you're going to have to be there when – you guessed it – no one else is. This usually means early in the morning or late at night. Most locations will be empty at these times, give you free reign of the spot. Another advantage being the best lighting of the day in blue hour, which occurs right before sunrise and right after sunset, and golden hour, which occurs right after sunrise and right before sunset. The tradeoff here is sleep, but you can take a nap in the middle of the day when the lighting is harsh anyway.
BONUS TIP! Sometimes getting to a spot early in the morning or late at night doesn't mean it's entirely empty. So make sure to take multiple frames of the same shot that way you can composite them in Photoshop. This makes an average of all the frames, so unless the people in your shot stood there for all of them in the exact same spot, Photoshop will get rid of them! #FixItInPost.
P.S. If that bonus tip made no sense at all, check out our Education and Training Packages! We offer a variety of packages for every level of photographer from beginner to expert!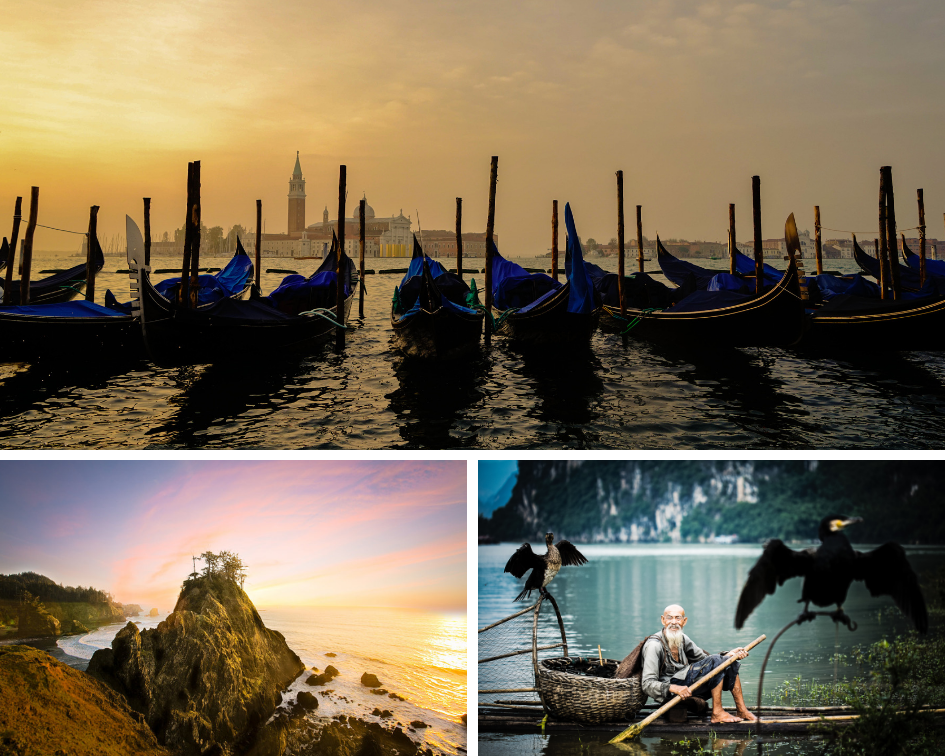 Photography by: Laurie Stevenson (Top), Erica Coffman Santiago (Bottom).
Location Scouting is Dead, Long Live Location Scouting

Okay, it's not REALLY dead, but location scouting has changed dramatically due to the likes of Instagram. Want to know all the best spots around you? Just search it on Instagram. Between hashtags and location tagging, finding the best spots has never been easier.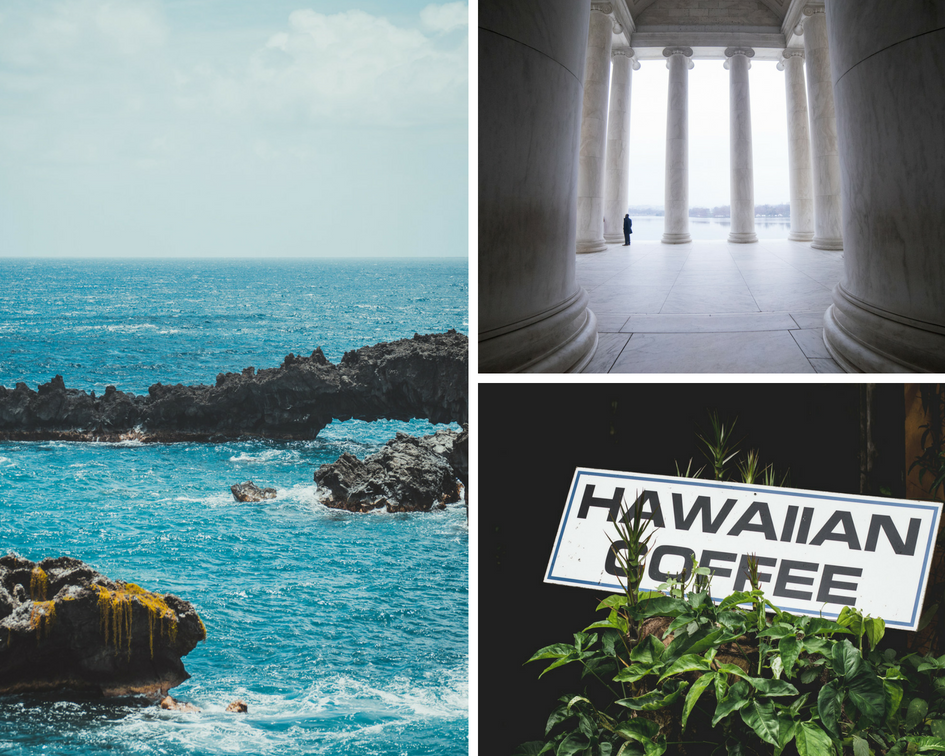 Photography by: Joshua Stevenson (Left, Bottom Right), Laurie Stevenson (Top Right).
Gear Up!
Gear isn't everything. It really isn't. That being said, there are some pieces of kit that make travel photography exponentially easier. These pieces make your life easier and make it easier for you to get the shots that you came for. They also help those shots look better.
1.) A Portable Tripod
Whether you're photographing star trails, mountainous landscapes, or anything in between, tripods are a traveler's best friend. You never know what you may find along the way, tripods allow you to be prepared for any kind of shot.
Erica's Recommendation: "MeFoto Tripods – These are lightweight, portable tripods that collapse down small so that they're easy to travel with. I've used this for my travels for the past 4 years and it has withstood the test of time and extensive travel. They have a few different size options and lots of colors to choose from."
2.) Filters
Variable ND filters, Polarizers, Mist filters – all are useful outside of the context of travel photography, but much like the tripod, you never know. ND filters make it so that you can shoot wide open in the middle of the day, polarizers can punch out more contrast in camera, mist filters can help to stylize your photos, you get the point. Filters are just another tool in the photographers' toolbelt. A major plus is they're small so you'll hardly notice they're in your camera bag.
Ua's Recommendation: "Tiffin Filters – They are reasonably priced and the glass is quality."
3.) A Variety of Lenses
I'm certainly not saying to bring every lens you own. That would be a very, very poor choice. That being said, it's important to be equipped for whatever you may find. Keep your kit simple, and don't overpack.
Erica's Recommendation: "The 24-105mm is the best travel lens as it allows you to have a large range of focal lengths and is known as 'the perfect walking around lens.' Perfect for those who don't want to take multiple lenses. Canon, Nikon, Sigma, Sony, etc. all have options in this range."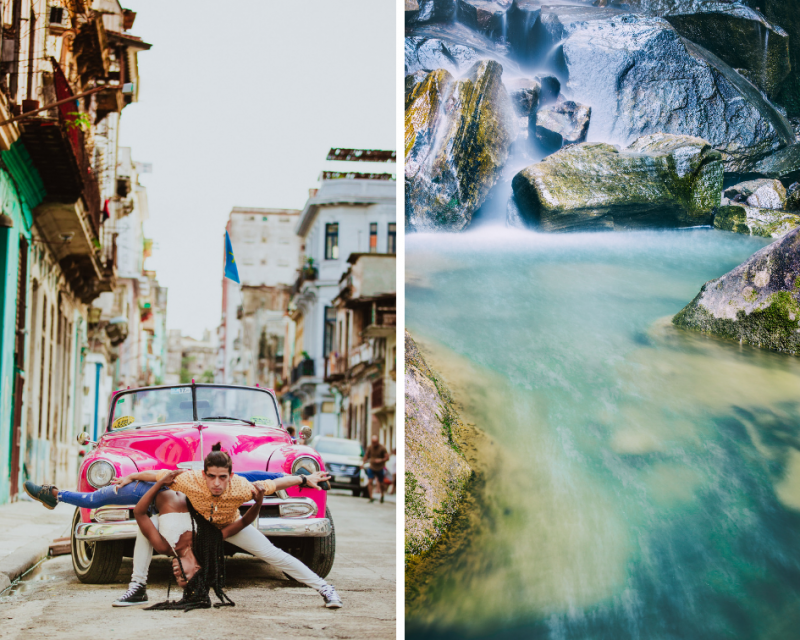 Photography by: Erica Coffman Santiago (Left), Ua Chamberlain (Right). 
Sweat the Small Stuff
Yes, it's important to get the big impressive shot when traveling. You definitely want to get the photo of the mountains you've been trekking through, or that skyline of the city you've been exploring. That being said, make sure to capture other parts of your travels as well. From the food that you eat, to the people you're with, to the tiny details of locations that often go overlooked, these aspects of traveling are an important part of the experience as well and will help to tell the story of your trip as well as pushing your boundaries as a photographer.
So next time you find yourself on your vagabond style adventure, keep these travel photography tips in mind. Be prepared for your trip and make sure to capture it in its entirety.
Make sure to follow us on Instagram @UACreativeStudios and @UACreativeEducation as well as liking us on Facebook at UA Creative Studios and UA Creative Education in order to keep up with all of our events both in and out of our studio located at King Avenue and Olentangy River Road.
This blog post was written by Joshua Stevenson, UA Creative Studios Creative Assistant, with expert travel photography tips contributed by UA Creative Production Manager and Lead Photographer Erica Coffman. Erica has traveled the world, photographing and teaching photography in 27 countries and 41 U.S. States.
If you have questions about travel photography or wish to expand your photography skills and want to learn more about our training and education, please email kelsie@uacreativestudios.com.