Have you ever made a book? Go ahead, read that again. I said "made," not "read." Yeah, you probably haven't because it's ridiculously difficult. Especially if you have to make your own book making tools, and paper, and everything. You make everything. From scratch. Most of us haven't even cooked dinner from scratch.
Heather F. Wetzel is a local artist that does, in fact, make books from scratch, as well as the tools to make them.
Recently I had the opportunity to photograph Heather's work. Most of her tools are made for a variety of purposes in bookbinding and box making. These tools help with tasks such as paper folding, covering books with cloth or leather, and tooling decorative marks on leather. All of her tools are made from elk, deer, cow, or yak bone. The paper you see in each book is also handmade by Wetzel!
When photographing Heather's work, I wanted to challenge myself to style the tools in a more dynamic way. Suspending them at an angle achieved this, but getting them to face me and the camera at the exact position I envisioned proved difficult. These tools are handmade from several different kinds of bones so they each have their own lopsided weight to deal with when suspended by a thin wire. I wish I could say this set-up was extravagant, but most product photography involves this kind of patience, creativity in setup, and dedication.
Luckily, I had help from fellow UA Creative team member, Ua Chamberlain, his patience and goofy attitude made the project much more enjoyable while working in a hot studio under even hotter lights. Someone to bounce ideas off of and talk through the process with made the end results more satisfying and allowed the project to not seem like work anymore.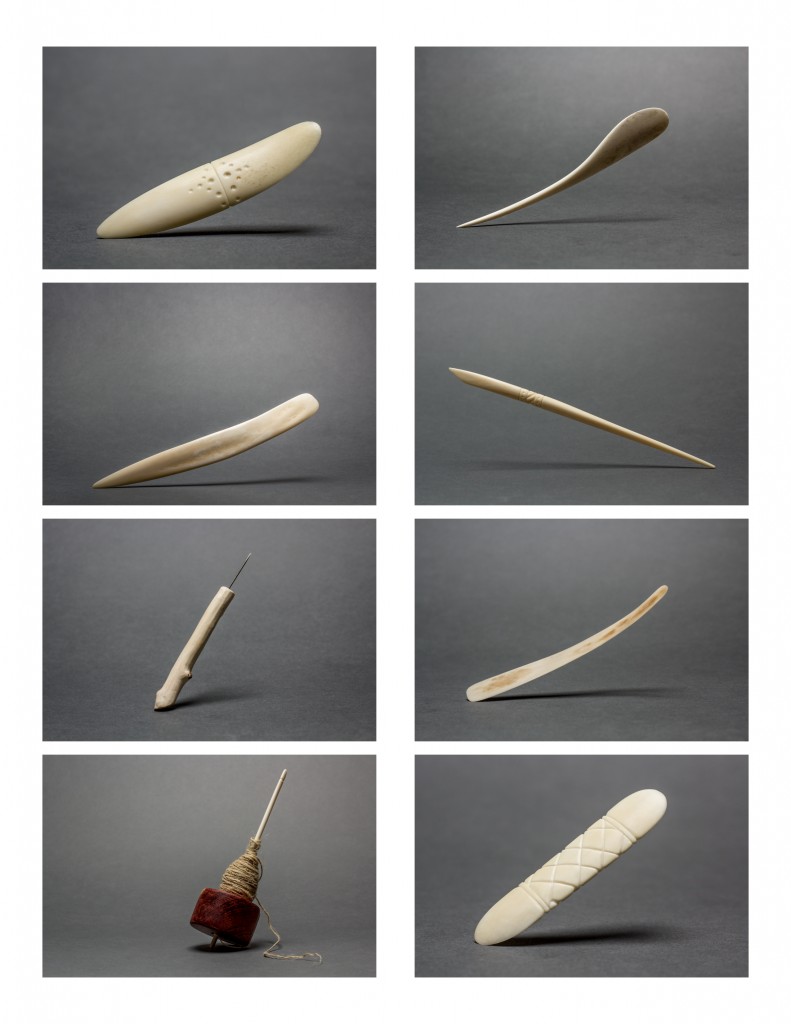 Equipment list
One Einstein E640 beauty dish with a diffuser

a grey sweep for the backdrop

One light stand with an arm to hold the tools by a wire from overhead

a boom to hold the Einstein E640

a tripod (something I would use more carefully next time)
The Process
I set up on a grey backdrop and placed a boom with the light and beauty dish 3-feet directly overhead of each object in order to get the pronounced shadows you see. I then used clear plastic wire wrapped around the arm of the light stand to hold up each individual tool. This set-up allowed for more consistency over all the shots. This consistency is crucial in post-production to make all of the images uniformed. This is why a tripod is so important. It allows the camera to stay at a fixed point and eliminates any discrepancies in the lighting or focus from shot to shot. If I moved my camera even an inch there could be inconsistencies in the grey background.
My advice to myself and others shooting similar projects would be to set up a tripod, shoot your biggest object first, and then work down to the smallest. That way you can guarantee yourself enough room in the frame for every object and no movement of the camera, causing unnecessary post processing.
If you're interested in learning more about bookmaking, Heather is hosting classes at the Cultural Arts Center starting November 10th!