When you're dreaming big, running with passion, and hustling hard to make a difference in the world, it's not often that you take a minute to reflect on what you have created. Thankfully, we were awarded the opportunity (pun intended) to take that pause at this year's Golden Goose Awards!
A few weeks ago, Wild Goose Creative honored us for our contribution to Columbus's community of artists, creatives, and organizations. We're so humbled by this acknowledgment and are so thankful to be recognized for doing what we love!
Since we haven't been super vocal over the years about our special contributions to the arts, we figured now would be a good time to share a few of the many ways we give back to the arts here in Ohio! Beyond our continued education program for artists and individuals to learn photography and video, UA Creatives Studios has been a sponsor and supporter of numerous projects connected to the arts in Columbus since 2013. We curated monthly art shows at Global Gallery for over 3 years, built a community of over 1000 photographers dedicated to creativity and fun, sponsored and promoted several up and coming artists and musicians through media production, provided career opportunities to local artists, commissioned several large art pieces, and put our resources and time behind projects that combine art, social justice, and philanthropy!
The evening of the Golden Goose Awards ceremony was so special and was attended by some of Columbus's most incredible artists and art champions. The entire UA Creative team and their spouses attended, along with some of our long-time students and clients. As we stood in front of the crowd to receive our award, we were all overcome with gratitude and joy as we saw the faces of all of our supporters in the crowd. It was such a special moment!
Aside from our supporters, there were some seriously inspirational guests there to support our fellow award winner, Alexis Perrone. Alexis was this year's Individual award recipient, which is a huge honor and accomplishment for an individual. Her development of The Four Horsewomen of the Apocalypse, as well as her role within several arts organizations and communities in Columbus,  earned her this year's award. It was so well-deserved and we weren't the only ones to think so. Her community in attendance was made up of individual artists, organizational leaders, and even Experience Columbus staff. Alexis, we're honored to stand by you with this award and wish for continued success for you!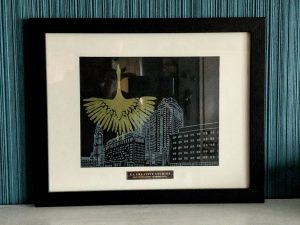 The event was hosted at Bleu & Fig, a great little hidden gem in Clintonville known for their brunch. We now understand why! We were lucky enough to experience this deliciousness, as the event theme was Brunch for Dinner. We piled our plates full of candied bacon, caramelized french toast, quinoa salad, quiche, and more. It was absolutely delicious!
Although the main purpose of the event was to honor the 2019 Golden Goose Award winners, we were also honored to be part of Wild Goose Creative's fundraising efforts. Proceeds from the event, as well as all donations made toward their newly launched Kickstarter campaign, are going directly to their expansion to a second location in Franklinton. This new location will have free rentals on Sundays for the families, artists, and individuals who have called Franklinton home long before its redevelopment. This is a project we can definitely get behind!
While we do make it a priority to incorporate the arts and education into our work, we're so lucky that our own community has encouraged us to continue to do more. It's because of YOUR connection to and support of UA Creative that we have been able to give back to the local arts community for all of these years! We could not have won this Golden Goose Award without you!